What's new
?
The Trailparts Hygo3 features an Autofit over-ride coupling with a standard 54mm x 184mm mount pattern. New 200mm dual dampers integrated each side of the coupling body absorb vibration, stabilizing both the tow vehicle and trailer resulting in a smoother, safer ride. The over-ride shaft has been thickened from 38mmØ to 50mmØ increasing the couplings over-all rating to 3500kg. The handbrake / breakaway lever is now separately installed allowing more options when designing the trailer.
Core Benefits of the Hygo
3
Off the shelf components
Nobody wants to mess around with expensive, hard to find spares and parts, a big problem with EU imports. This system uses Trailparts core off the shelf components offering customers fully customised builds with readily available parts.
Parking Brake & Auto-Reverse
The Hygo3 has an effective, easy to install parking brake and features auto-reverse to release the brake when the tow vehicle is shifted into reverse.
Two Tier Offering
Trailparts Hygo3 can be used with both economy hydraulic drum brakes, or our high performance Patriot disc brakes.
Unihub Compatible
Unihub is our latest innovation and an all new hub design for the NZ market. Low maintenance, bigger safety margins. Ask now more more details.
Multiple tow vehicles
With no in-cab wiring, trailers fitted with the Hygo3 can be towed without brake controllers.
Break-away Function
In the event of a vehicle separation, the breakaway feature on our coupling will immediately apply the brakes.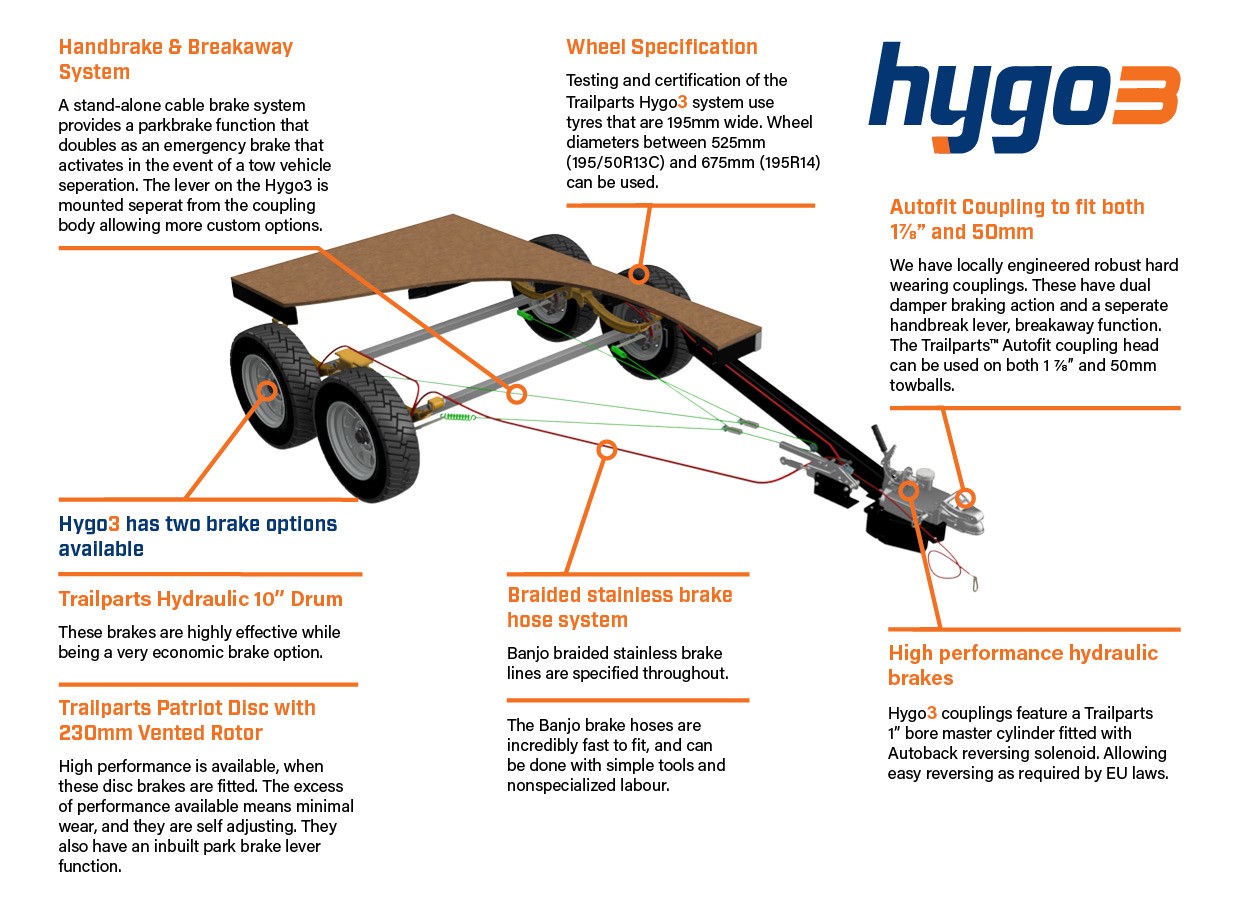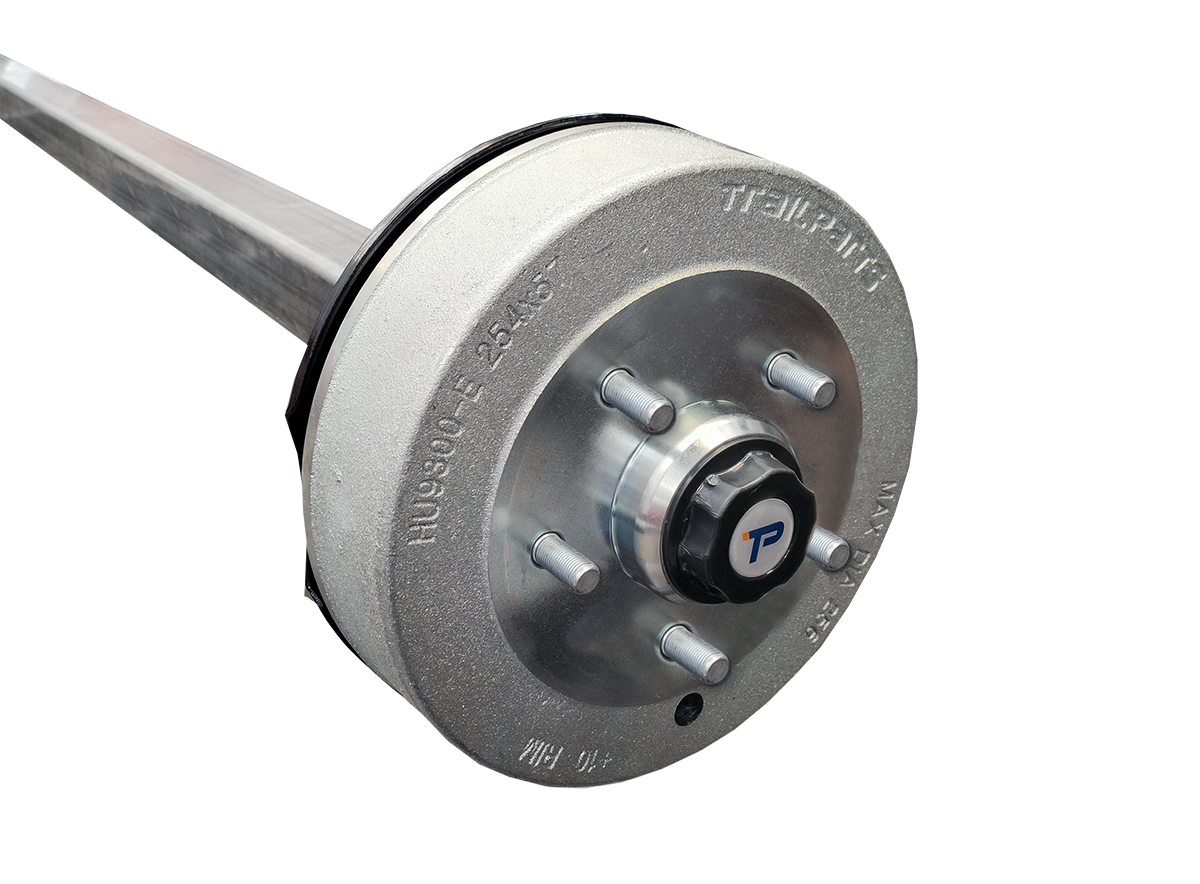 Two Tier Brake Options
Economy Hydraulic Drum Brakes
These Drum Brakes are an affordable alternative to their EU counterpart. These are a very effective braking option for those working with low clearances. Perfect for enclosed trailers such as horse floats and race trailers. For maximum maintenance reduction and hub longevity check our our all new Unihub.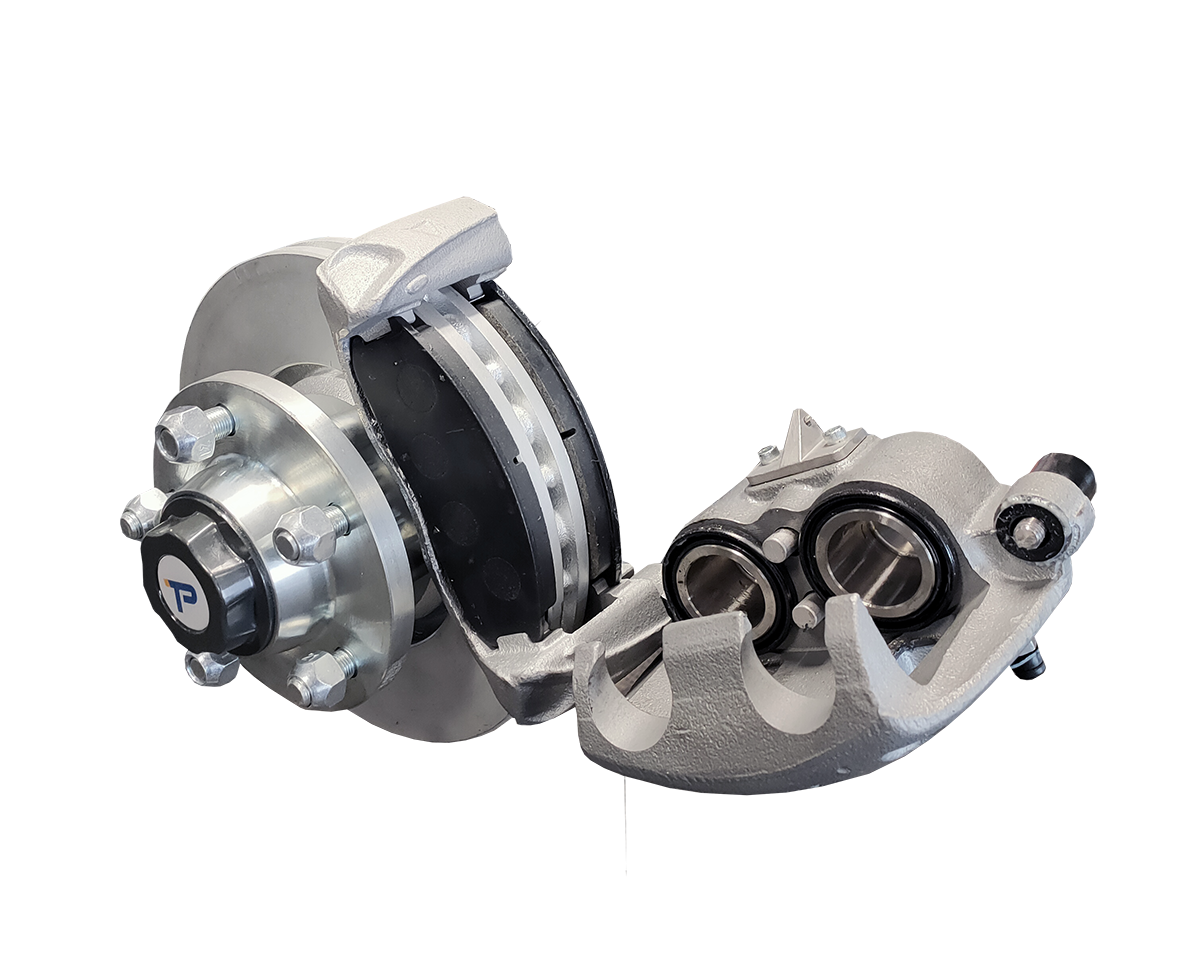 High Performance Patriot Disc Brakes
Trailparts Hygo3 brake systems use the tried and tested Patriot disc brakes. Proven through thousands of sets sold/fitted to be the most efficient and long lasting trailer brakes on the market. Developed Locally in New Zealand, the brakes have large vented rotors for dynamic cooling when in heavy use. See more about our Patriot Disc brakes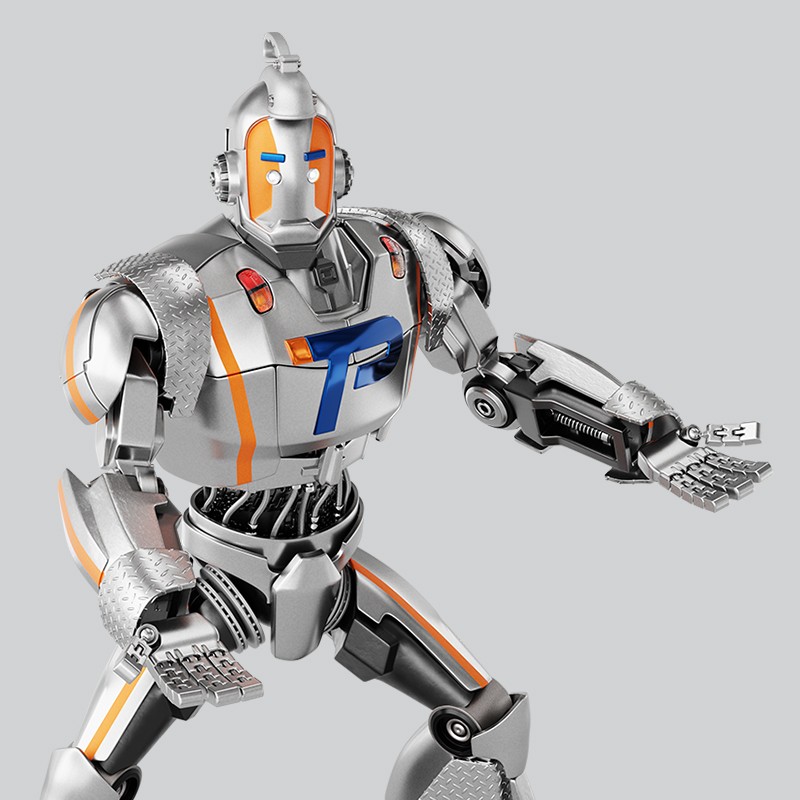 Advantages over EU import trailers:
Less down time:
Parts are NZ designed, and replacement parts such as brake pads and wheels are available off-the-shelf.
Lower lifetime costs:
Replacement parts cost less compared to pricey EU parts. And low-maintenance disc brakes can be used instead of the cable and shaft mechanical drum brakes used on all EU trailers.
Customization is possible:
Trailers can still be completely customized and designed to suit your application – and not restricted to the designs that importers want to sell you from their stock.
Need Help with Exemptions?
We can help you through the process of applying for an exemption for the Hygo3 system. If you're producing multiple trailers to the UN/ECE R13 standard using the Hygo system, we can advise you on streamlining the process significantly. Just another way we do the business, so you can get on with yours.


➊

Order Hygo Braking System

When you order the Hygo3 braking system. To satisfy exemption requirements each Hygo system is supplied with x2 pre-assembled custom axles. These axles are punched with a serial number to match the details and serial on the Hygo coupling.
➋

Installation

Build the trailer, using the brake system as specified, and ensuring the axle serial numbers remain visible.
➌

Certification

Present the trailer for testing at an NZTA approved entry certifier, who will issue a VIN number, a VIN plate, and affix it to the trailer. Alternatively (Trailparts recommended) you can apply for a WMI online then contact your Trailparts for a free VIN plate.

As a part of the VIRM (Vehicle Inspection Requirements Manual), the entry certifier will want to see copies of proof that the braking system fitted to the trailer is suitable for the load being carried. The below process with walk you though the exemption application including the one-off fee of $184 and a copy of the bank confirmation;

03-0584-0007766-00
Account name: NZ Transport Agency
Bank: Westpac
Particulars: Last six digits of the vehicle's VIN: XXXXXX
Code: CA11
Reference: Applicant Surname: XXXXXXXXXX

Email the below template to: exemptions@nzta.govt.nz


To whom it may concern,

See the attached exemption application for a trailer we have here that needs to get a WOF and be rated to 3500kg.

I've attached photos also showing the affixed VIN number, tyre size and the coupling for your reference also. Lastly, we have made the payment which is shown with the attached confirmation.

If you can please process this as soon as possible would be much appreciated.

Let me know any questions you may have.



Attach the follow documentation;
Copy of the bank confirmation ($184 fee)
Engineer's Statement with your own letter head (Sample)

Performance Equivalence Certificate (Notice of Conformity: Trailparts Supplied)
NZTA Exemption Application Form (CA11)
Photo evidence: Coupling info plate, VIN Plate, Tyre - showing size, Brake cable setup - emphasis on spring.
Notes:
Approved entry certifiers are selected branches of the Automobile Association (AA), Vehicle Inspection NZ (VINZ), Vehicle Testing NZ (VTNZ), and Drivesure Vehicle Testing Ltd.
For manufacturers building a number of trailers, it is suggested that they apply for a WMI (World Manufacturer Identifier) that lets them issue their own VIN numbers. This will streamline the VIN application process, particularly in remote locations where no approved VIN issuer is present.